In Memory
Warren Bailey - Class Of 1962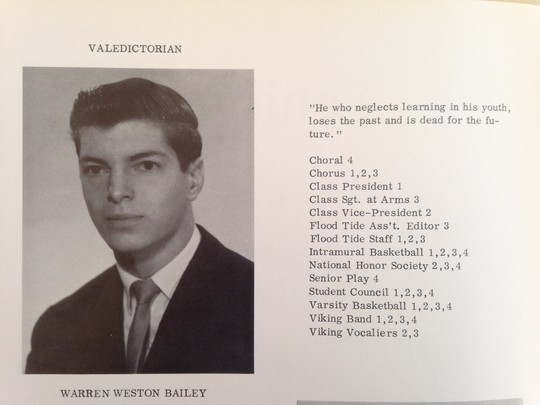 Dr. Warren W. Bailey
July 1, 1944 – March 31, 2016
It is with deep sorrow that we report the recent passing of Warren W. "Butch" Bailey, MD, a former resident of Petersburg and recent resident of Qualicum Beach, B.C.
Warren was born in Ketchikan and raised in Petersburg as a member of the "Hill Gang". Upon graduation from PHS in 1962, Warren went on to attend Montana State University and Tufts University School of Medicine. After completing a cardiac surgery residency at the University of Alabama, Birmingham, Warren practiced adult and pediatric cardiac surgery in Seattle and Cincinnati.
Warren retired to British Columbia where he was well known as an activist and benefactor of community services and environmental concerns in the Qualicum Beach and Nanoose Bay areas.
One of Warren's greatest joys was sharing his passion for golf, salmon fishing on the "Island Dreamer", and fly fishing, with friends and family. Warren was doing what he loved, fly fishing with a friend on a beautiful sunny day on the Taylor River, near Port Alberni, B.C., when he lost his footing and was overcome by the current.
Warren was a brilliant, generous, creative, and gentle man with a wonderful sense of humor. A raconteur and accomplished cook, his friends and family will miss his original stories, often accompanied by a sumptuous meal.
A compassionate family man, Warren is predeceased by his parents Dr. Warren W. and Ann Bailey and sister Norma Jean, all of Petersburg. Warren is survived by his wife Sandy of Qualicum Beach, B.C.; and children Geoff (Lucy) of Brooklyn, N.Y., Joey (Caroline) Benton of Summerville, S.C., Jeannie (Jason) Schmidlapp of Campbell, CA; his grandchildren Joseph, Ivy and Ruby Schmidlapp, and Joey and Keegan Benton; as well as siblings Lynn (Fred) Cadle of Evans, GA, Carol (Jim) Macmillan, of Blaine, WA, and Norman (Denise) Bailey of Poulsbo, WA; and numerous nieces and nephews.
A celebration of Warren's life will be held at Yates Funeral Home, 1000 Allsbrook Rd, Parksville, BC, V9P2A9, Canada, on April 24, 2016 at 1 p.m.
In lieu of flowers, it is requested that donations in memory of Warren be made directly to the Petersburg Public Library, P.O. Box 930, Petersburg, AK, 99833, or to a charity of your choice.